After outlining (in miniature) some of the larger decisions regarding bringing Roadtrip! to fruition, it's time to address the most important question. When will it be published? Information about components, manufacturing, legal tidbits, taxes, and shipping is interesting, sure. But really, what it all comes down to is what's the timeline. What, if any, obstacles stand in my way? What's my plan – warts, dates and all? As I've built up to examining this specific, here's what I've covered:
What's your path to publishing success? Well, I'm nothing if not cautious. Sometimes, however, you've just got to be bold. Here is the breakdown of my efforts over the next four months. Note that, as shown in the picture, work is being done in community, website, game, and business every month. It's the focus of the efforts that shifts from construction to maintenance.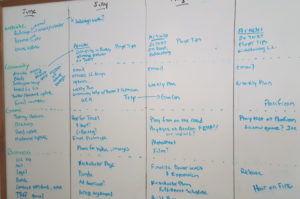 Month One(May-June), Community Update. For a Kickstarter to succeed, you've got to have community. Period. While I've done a fairly good job personally getting out there, testing and promoting Roadtrip! I've let slip my social media avenues a bit. In another day, I'll have my Community Plan formalized, which will detail my approach to flushing out and formalizing daily/weekly/monthly activities. It includes updating my website, which needs better focus, and organizing my twitter, facebook, instagram, pintrest, linkedin and BGG accounts.
Month Two (June-July), Kickstarter Roots. A lot goes into a Kickstarer. At the beginning of this period, I'll be releasing my plan. By that time, my legal and financial ducks should be in a row, and I'll be reaching out to manufacturers and potential sponsors, like The National Parks Foundation. Further, I'll need to have Roadtrip! preliminarily scrubbed from directions to card text to art. Of course, all the work will not be dreary, since I'll also be designing the backer levels and expansions. My intention is to involve community in some of these early decisions.
Month Three (July-August), Roadtrip! Road Trip. An idea I've been toying with for a while, taking Roadtrip! on the road to some of our National Parks and National Monuments, is way overdue. I'll be finalizing my trip plans over the next two weeks and putting them up on my website. Essentially, I'll be taking a road trip from the Bay Area out to GenCon and back, hitting most of parks for which I don't have any actual or decent pictures. Along the way I'll be talking to folks, hitting up the visitor's shops, and posting beautiful pics. Upon my return, it'll be time to film the video shorts for Kickstarter – luckily, I'll have some recent images to use!
Month Four (August-September), Kickstart. It's the end of summer vacations and a perfect time to pitch a game built around reminiscing. At the beginning of the period, I'll have estimates in from the manufacturer, a shipping plan, a fulfillment schedule, my kickstarter community plan, and the kickstarter page ready to go. As soon as I have a date, probably mid-July, I'll announce it.
Shout-Outs!
Coming soon on VickieGames…
The First Fifty Playtests – thoughts about what I've learned after 50 playtests of Roadtrip!
Roadtrip! Game Stability – many have asked after all those playtests, where does it stand?
More Tips & Tricks from a Female GM – have a few more ideas to share and an update of my last post
Demographics?! What should a designer know about that marketing stuff?