Over the past two weeks, I've been outlining (in miniature) the process that would bring Roadtrip! to fruition. I'm not talking about design or playtesting. I'm talking about those behind-the-scenes activities which need to be done – you know, the stuff that really takes 80% of the project. Never fear, while I've been updating components and tweaking rules, I have been putting effort into this behind-the-scenes work too. I appreciate your patience with my process. My program management background helps considerably, but there's still a lot to learn. In order to illuminate some of this process, here's what I'm covering:
What's the basic path to Roadtrip! Publication? – 20 March
Getting Roadtrip! Made – last week
Getting Roadtrip! into your Hands (aka boring costs taxes) – this week
What else needs to be done to get Roadtrip! into your hands? Ok, so I've got a working prototype that's been favorably playtested. All that needs to be done is set up a Kickstarter and talk to a manufacturer right? In a nutshell, no. If nothing else, a Kickstarter requires a funding goal – an amount of funds that I would need to bring Roadtrip! to life. Let's say the manufacturing bill is $15,000, based on last week's estimates. Would the funding goal be $15,000? Well, only if I can afford to personally invest a lot of money in the venture. Of course, I'm willing to front some money and I'm willing to work for darn cheap to get the game out there, but I cannot just give the game away. Here's a brief list of those other costs that need to be tabulated: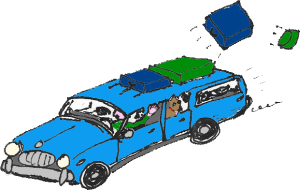 Game Polish. Try as I might, I am not an artist. Further, even though I'm a decent graphic designer and editor, I'm not a professional. For a Kickstarter project, my intention is to fund my artist, Carolyn Vibbert, to complete the Vehicles, the Passengers, the Highway Cards, a main illustration, and some box art (~$5,000 – some of which has already been done). If I'm unable to find a graphic designer or editor to work for the glory of a credit mention and promises of very modest reimbursement upon 100% over funding, I would plan for my first expansion goal to include a once-over by a graphic designer and a professional editor, in addition to upgraded art on the board (+$5,000).
Legalese. To dot all those i's and cross those t's, I'll likely need to speak with a lawyer (briefly, at least) and hire a CPA. It won't do to make trademark, liability, or tax mistakes. There are nightmare stories out there! Plus, I really need to incorporate! The latter I'll do within a month. Of course, all of this costs money (~$2000).
Shipping, Handling, & Taxes. These little hidden costs are why purchases that are so attractive on Amazon at $4.99 can end up costing you $20. I'll take one at a time. Shipping is really a two-fold cost. I have to pay to get the games from the manufacturer to a distribution point. Then I have to pay to have each one shipped from that distribution point to you. Handling is trickier because it will depend on how many games are manufactured. If Roadtrip! exceeds its funding goal significantly, it is likely I'll add an intermediary distributor to the chain. And, distributors are not free, they usually take a small slice of the pie too. Finally, taxes take a percentage. Aside from the ubiquitous sales tax, there's also income tax, a Kickstarter fee (5%), a payment processor fee (3%'ish), and possibly international tariffs. Remember, I said I'd need a CPA? That's why! Needless to say, it would appear that this category alone adds approximately 20% to the overall cost.
What's the bottom line then? Well, if we stick to my example of $15,000 for a small run of games, a minimum funding goal would have to be $27,000 to 30,000. The good news is that this figure is completely in line with many board games. Note the italicization of 'board;' card games are much cheaper to produce because… well… they are just cards. And all of this goes back to one of my design goals: make the game smaller without decreasing (or in fact in order to increase) its appeal and portability.
Shout-Outs!
A Crowdfunder's Strategy Guide – Jamie Stegmaier of Stonemaier Games recently put out a tremendous book on crowdfunding that I highly recommend. It was compiled from the incredible amount of information on the Stegmaier blog, which is worth a deep dive!
Lay Waste Games – The dragons are being shipped! My cave anxiously awaits their arrival! Looking forward to adding Dragoon to my other Kickstarter games. Your cloth game board design was inspirational for Roadtrip!
Protospiel San Jose – Come out and join Bay Area game designers for 3 days of epic fun, 15-17 April, at GameKastle Mountain View. It's free for players; and, there's an EPIC raffle. The more games you test, the more tickets you get! I'll be there there with Roadtrip!
Coming soon on VickieGames…
Next week: When will I make the decision to publish?
More Tips & Tricks from a Female GM – have a few more ideas to share and an update of my last post
The First Fifty Playtests – thoughts about what I've learned after 50 playtests of Roadtrip!
Demographics?! What should a designer know about that marketing stuff?