Since a lot of people ask when will Roadtrip! be available to purchase, last week I started a short series of posts about the process of taking the game from playtest to publication. It's not all fun and design! Even an engaging game with nice graphics does not guarantee success. This I know. So, while I'm still updating components and tweaking rules, I have been putting work into that behind the scenes stuff too. In order to illuminate some of that detail, here's what I'm covering:
What's the basic path to Roadtrip! Publication? – last week
Getting Roadtrip! Made – this week
Getting Roadtrip! into your Hands (aka boring costs like shipping and taxes) – 1 April
When Will I Decide To Publish Roadtrip! (no matter the method)? – 15 May

So, what exactly needs to get produced? Manufacturing a game can be a creative challenge set by the limits of the production tools. What does that mean? Well, all those components – cards, chits, tiles, game board, the box – have to be printed, then cut or punched out. If you design a game with unusual parts, you'll have to pay to have a machine setup accordingly. Even if you design a game with standard components, like poker cards, the cost can be driven up unless you design around a standard number of components per sheet. Further, just how small can you make the game; how tightly can you package everything? Larger boxes are more expensive (both to manufacture and to ship). What sort of materials and coating are you using? How heavy is everything? The design considerations go on.
For Roadtrip! I've invested a good deal of time from the beginning working on creative ways to lower cost that do not alter its thematic appeal, and yet still address the usability issues I've mentioned previously. With an eye towards Kickstarting, some of my decisions were made with expansion goals in mind. While other decisions, have been guided by the restrictions of printing optimal quantity of items/sheet. Here is the breakdown of raw manufacturing cost between Print-on-Demand and a small bulk run (100-300). For this example, I've used The Game Crafter pricing.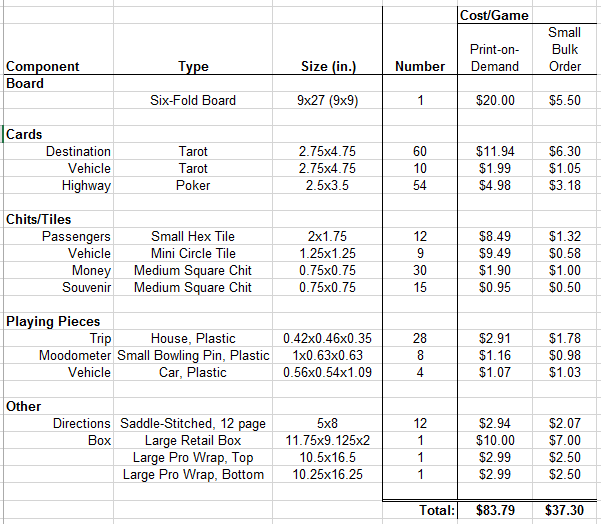 Smaller packaging. For this example, you will notice that the game fits into a large retail box. It remains my goal to fit the entire game into a medium sized box, ~8″x5″x2″. That change alone could save $7. The primary constraint, as you can see, is the game board. I continue to investigate flexible game board options, like cloth or laminated map-style. In fact, either of those ideas fit thematically quite well. My running estimate for a cloth board is $10 for a small bulk run.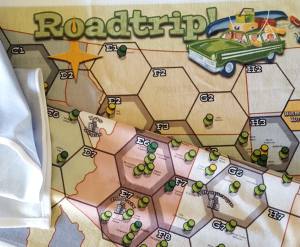 Expansions. The full version of Roadtrip! I've been playing has included 25 Passengers, 20 Vehicles, 13 Vehicle Tiles, 106 Highway Cards, and 85 Destination Cards. That's just too large for the basic game from a manufacturing standpoint. So, I've broken it down into a basic game with two expansions, all of which will fit into the original box. The basic set, which is priced above, will have 12 Passengers, 10 Vehicles, 9 Vehicle Tiles, 54 Highway Cards, 60 Destination Cards. The other two expansions, currently called Pet Mania and Misadventure, will add an additional 8 Passenger, 4 Vehicle Tiles, 27-39 Highway Cards, and 10-20 Destination Cards.
Component Materials. While the cost above compares apples to apples, it is likely that I'd change the components to match the type of manufacturing method used. For example, if I were serious about a Print-on-Demand version, I'd probably move to standee chits for the vehicle and Moodometer tokens, as well as medium circle chits for Destination tokens. Or I might even consider eliminating some of less unique components. Who doesn't have play money at home already? On the other end of the spectrum, an expansion goal for Kickstarting Roadtrip! would include more detailed, less generic, vehicle, Moodometer and Destination tokens. Perhaps wood over molded plastic. Higher quality cards. Cleaner finishes. Perhaps even a metal, camp-style, box. Again, however, everything would still be designed to fit in the original packaging.
Next week, I'll cover all of those hidden costs, which have yet to be reflected in the raw costs above.
Shout-Outs!
Coming soon on VickieGames…
Next week: Getting Roadtrip! into Your Hands – all those hidden costs.
More Tips & Tricks from a Female GM – have a few more ideas to share and an update of my last post
The First Fifty Playtests – thoughts about what I've learned after 50 playtests of Roadtrip!
Demographics?! What should a designer know about that marketing stuff?