What a week it's been! I've run another playtest, printed out a new version of the board, and tomorrow, I'm on the road to Metatopia in Morristown, NJ!
Metatopia
Besides some great panels and an infinite amount of schmoozing with fellow designers, here's my Roadtrip! playtest schedule: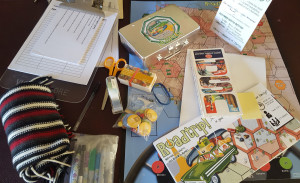 Friday 11am-1pm (B134)
Friday 4pm-6pm (B214)
Saturday 11am-1pm (B362)
Saturday 8pm-10pm (B507)
Sunday 8am-10am (possilbe)
I'll be posting my next This Week's Roadtrip! with my Metatopia experience!
The Visual Evolution of Roadtrip!
As you may have seen, I posted an image of the component evolution of Roadtrip! I'll keep updating the graphic as the game continues to change.
Shout-Outs!
Coming soon on VickieGames…
A Point Does Not a Trend Make – lessons learned from my first time seriously playtesting
For the love of D&D randomness, I decided to start Project Random Dungeon…. got a temporary page up, still working on collating the book set and some basic rules.
More information on a possible Tabletopia version of Roadtrip!