Playtests, playtests, and more playtests! Since my last update, I've been to many events and had Roadtrip! played another dozen times by over 30 people. Enough thanks cannot be said to those who sat down to play and provide feedback!
The Playtests
Celesticon's Celetispiel: Attended all 4 days of this great event! Not only did I get in 6 games of Roadtrip!, but I also got to play a good number of prototypes themselves! The best part of this event, however, was that Roadtrip! got tested by designers (including published ones) and serious gamers.
Heretic Games' Home Brew Game Night: Got 1 playtest in. Truly, I have to say, what made that game wonderful was the narration by the players as they played various Road Hazards on each other. As other playtesters have discovered, describing your travels in great detail, only makes Roadtrip! so much better. It's meant to be reminisced around, acting as a catalyst for social interactions.
Private Playtest Event: Got another game in. Mixed results here, primarily due to the playtest format. It was a bit too loud and hectic, on too small of a table, with players who did not really mesh. I did get helpful feedback, though. Plus, it emphasized that the game really shines when played as part of a larger social narrative.
Games of Berkeley's Home Grown Games Sunday: What fun in the sun! 3 more games played!
The Feedback
Overall, the results were positive, if not glowing! The large majority of casual gamers who played Roadtrip! had a great deal of fun and enjoyed the play (~90%). Additionally, a majority of designers and serious gamers likewise found the game humorous and mechanically solid (~%80). Of course, not everyone has raved, but then again, not every game is for every gamer. That said, here is a summary of the comments:
The theme is wonderful and makes the game! This is music to my ears, since I designed the game to emulate a typical (i.e. dysfunctional) family vacation in the height of 60's glamping kitsch.
The graphics need some help. I agree completely. The game needs a thorough scrubbing. Consistency, colors, font, and layout need some help. Granted it's not bad, but I'm not a professional. Depending on the direction of publication, either a publisher will fix it or I'll build it into the Kickstarter budget.
More humorous illustrations. Yup. I already have an estimate on the costs for finishing up all the cards, adding a few more general illustrations, and designing the box. I may do a few of the Highway cards and another fun graphic in the fall, but other than that, I'll likely wait until I figure out what direction publication will take.
Make the game board smaller, in order to make Roadtrip!'s size more amenable to vacationers/campers/park-goers/RVer's. Yes, I've been tinkering with this for a while now. As you may recall, I've been working on some sort of bandanna-shaped board. Cloth could easily fold up to fit a smaller box, and it fits the theme. It has also been suggested that I try a roadmap-style board. It would have to be on heavier, water-resistant, crease-resistant paper though. Both of these changes, likewise lend themselves to road vs. topographic map graphic underlay. So, we'll see. I hope to have demos of those in a few weeks.
The end-game seems a bit too linear. Most of the designers and experienced gamers provide this feedback (~60%). This is not a new comment, and to some extent I agree. I have developed three alternate-play options to address this concern. I do not want tinker with the mechanics too much yet, however, because a single playtest comment by one tester does not a trend make. That is not to diminish any comments at all. Rather, I'd like to run playtest sessions in a couple different ways to try to uncover the crux of the matter. To date all of the non-alpha playtests have been introductory games – short Itineraries, less Passengers, flush Budget – in which players only play once. Generally, casual gamers enjoy this version, while experienced gamers perceive a narrowing of options. What I'd like to do is have the same group of experienced gamers play a couple of times in a row AND have them play the various versions, trying out the added options. I already have scheduled one session to meet this format. I hope to add a couple more soon. I'll post the results as I get them.
Is money trival? Esoteric philosophy aside, as mentioned above, the introductory game is a bit more flush in cash to familiarize players with the overarching mechanics. Nevertheless, I have already adjusted starting funds for down from $30 to $25, while at the same time negating vehicle purchase costs. Based on the previous six playtests, I think this works better. I am also doing a few other things to tighten the budgeting process. First, I lowered the boon for a Rich Passenger from $10 to $5. Second, I'm in process of reviewing the money-penalty Road Hazards. Third, money will be pivotal to two of the Hidden Goals. Finally forth, I'm going to test the Elko advanced play option with a bank.
In Development: Three Options for Roadtrip!
Billboards. In the last This Week's Roadtrip!, I outlined this alternative play option. I tested it three times at Celesticon. After the first go, I dropped the Highway Cards that caused them to change, since they ended up being played to penalize players rather than just to shift the Destinations to more favorable locations. In the other two games, they were not really taken advantage of. I still think the mechanic is sound, but it needs more testing.
Hidden Goals. I've got 5 prototypes ready, though they've not yet been tested. It may be possible to add more, if I add themes back onto the Destination Cards. In the original game, I had the parks all organized into various groups representing the types of attractions visitors were likely to encounter, such as caves, cliff dwellings, fossils, wild west, etc. Adding them back in would provide some additional flavor to the Destination Postcards, and also could provide an additional way to customize this gameplay option.
Elko Bus Depot & Used Car Lot. Theme fun aside, several playtesters have commented that they'd like a chance to change some of their setup/planning phase options midway through the game. So, I'm going to try adding to a single, mid-board hex the option of spending a turn there to do one of a few things. Possible candidate actions are: paying to send a Passenger home on the bus, changing vehicles, withdrawing money from the bank (in small increments), and adding/swapping a billboard into your Itinerary.
Shout-Outs!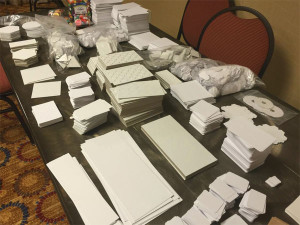 Coming soon in This Week's Roadtrip!
A Female GM?! Lessons Learned and Funny Stories from around the RPG Table
A Point Does Not a Trend Make – lessons learned from my first time seriously playtesting
More information on a Print-on-Demand Version of Roadtrip!