On the Road at GenCon!
Hello from Indianapolis! Here'a a quick note and a few shots from the midst of the madness that is GenCon…
Roadtrip! Playtest
I had three great, 4-player, playtest sessions yesterday – and I learned a lot, not just about playtesting to such a random crowd (I certainly got my spiel down!), but also about what to expect and how to prep for it all. I'll be posting more information on lessons learned next week. For now, however, here are a couple quick shots from two of my games. Both, by the way, played very differently. One group sought to make a lot of deals, while the other was super cutthroat. Fun!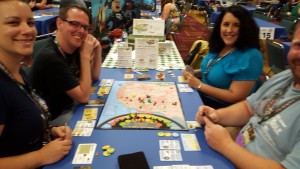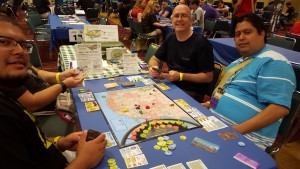 Other Playtests!
Today I'm heading out for some phat loots and playtesting of other folks games… More to come next week, but I have seen a lot of fun games!
Shout-Outs!