Welcome to the first installation of my weekly board game update! Now you can see just what I've been up to as Roadtrip! comes to life. Please comment and let me know questions you have and I'll either address them here or in next week's installment.
GenCon Preparation!
This past week has been almost exclusively dedicated to preparing for the big event – GenCon and its 50,000 manic gamers. I'll be taking the demo version of Roadtrip! and playtesting in a few events:
First Exposure Playtest Hall (ICC 107-110)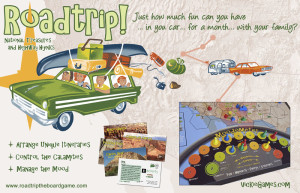 Thursday 12:00pm – 2:00pm (ZED1576874)
Thursday 2:00pm – 4:00pm (ZED1576875)
Thursday 6:00pm – 8:00pm (ZED1576878)
Saturday 8:00am – 10:00 am (ZED1576888)
Sunday 8:00am – 10:00am (ZED1576896)
The Game Crafter Community Game Night
Friday 8:00pm-12:00am (ZED1571160)
If you are going and want to play, just snag me and we can work something out!
I'll also be attending a few seminars on subjects of particular interest:
LegalGeek Advice & Tips for Game Designers (SEM1571088)
A Crash Course in Game Manufacturing (SEM1567742)
The Next Generation in Kickstarter Campaigns (SEM1580485)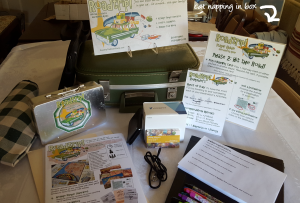 Of course, preparation for a big con like this takes a lot of effort. Thanks to some help from friends at The League of Gamemakers, I've put together a sell sheet, demo kitsch, and playtest player aids and surveys. Now if only there's room for my regular stuff! The only thing left to do is make notes on my spiel – elevator-ride, 5-minute sale, and playtest versions. I've notes already; that'll be tomorrow's main task.
Shout-Outs
Of course, I also hope to see some friends and make some new ones. I've been tweeting a lot this past week to promo a few of their games too! Here's a brief list of games I hope to see and play:
Next Friday's This Week's Roadtrip!
Hopefully, I'll be able to send a quick update from GenCon complete with pics and information on how my playtests are going. Cross your fingers I get a good internet connection at my hotel. Regardless, I shall be posting all my shenanigans on Twitter and on Facebook.
Coming soon in This Week's Roadtrip!
Following GenCon, I've a few updates planned already:
GenCon Look Back
Lesson's Learned from my first serious playtest
VickieGames' Top 3 Tips on Beginning Board Game Design – I've already compiled quite a bit of information from various seminars I've attended at cons over the previous year; I'm just waiting to see what I can add from GenCon.