There are many ways for a designer to have a game playtested at Gencon. Your goals for playtesting (and you need to write them down, not just contemplate them) and your resources will determine what avenues you follow. Stonemaier Games just put out a great lessons learned from Gencon 2015 that encompasses broader concerns for exposure. For this article, however, I'll be focusing on the First Exposure Playtest Hall and adding to The League of Gamemakers article on the subject. As Kelsey Domeny succinctly stated about the FEPH, "For a fee, you can set up your game and a skilled crew of workers will find players fitting whatever demographic you need to test your new game." Being new to the industry, I figured a few playtest slots were worth the cost. Here's what I learned in addition to her advice:
Run Several Playtests in a Row
Potential playtesters wander the event browsing for interesting games prior to their slot. Some are even trying to determine if they want to playtest at all. Because FEPH books you into 2-hour playtest slots, you cannot setup until the other game designer has vacated. So, unless you have the 8am slot, odds are that your first slot may not attract as much attention as others whose games are already on display. Remember, your game is just one of a couple dozen in the room at any one time and is likely not mentioned by name in any of the FEPH ads. However, once you've got your game going, you will want to capitalize on the traffic of the room. Of the five playtests I ran, three were isolated events. There was nothing worse than having a small crowd of potential playtesters wanting to play immediately, but having to tell them to come back at a different time (or look me up elsewhere).

75 Minutes Max
FEPH is a dynamic (they call it 'chaotic') playtest event. I suspect they are like most other mass playtest events. From my experience, the 120-minutes breaks down approximately like this:
Setup – You'll need to be quick about it (5min)
Roll-Call – Depending on your ability to draw players, you may be waiting for a while to start (15min)
Introductions & Explanations – Outline your game and its state of design; explain what you need from the playtesters; detail the timeline of the session (5min)
Rules – Explain how to play (5-10min)
Play the Game – Be sure to include setup time in your estimate (75min max)
Discussion of Experience – Be sure to leave time to discuss the game or survey with the playtesters; thank the playtesters too! (10min)
Pack Up – Yup, if you don't have a game next session, you'll need to leave time for this; the folks in the next slot get understandably cranky if you lapse into their session (5min)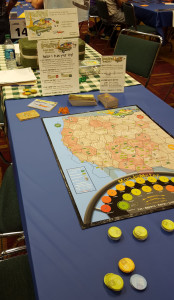 This structure immediately relays two important bits of information. First, if you've got a longer game (60+ min), you'll need to be sure you have some version of the game that fits the time allocation. Be prepared to end early, if you need to. And, be sure to have a way to determine who the winner(s) was if you do so. Players will want to know! Second, practice. I cannot stress this enough. Practice your spiels, all of them – playtest, intro, and instructions. Type them out if you need to. Don't forget to practice staging as well. Know what pieces you'll use and how to arrange them efficiently. You want to maximize time playing, not time reiterating rules or counting meeples.
Let Playtesters Play
After you explain playtesting, after you explain the rules, and after you watch for a round or two, let them take over. Try not to hover too much. Rather, try to fade into the background. It is simply amazing what you can learn from the mistakes made. If you witness a blunder, don't immediately leap in! Wait and see if the players correct it or if it goes unnoticed. Further, you can be a much better judge of how the overall experience is going if you step back and watch the reactions of the players as a whole. Not to mention, while you are standing back, you can pull in all of those folks browsing the hall.